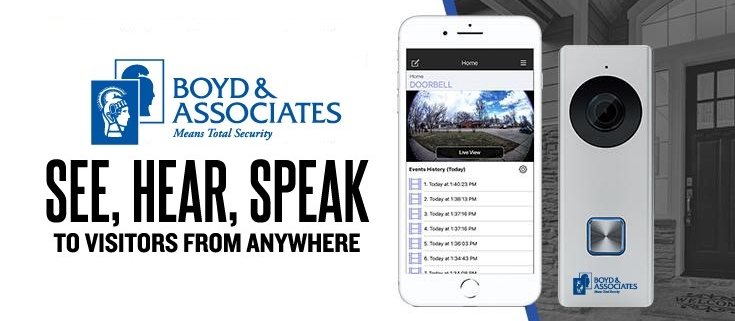 FREE Video Doorbell When You Switch from Spectrum to Boyd and Associates Security!
Spectrum, a cable company that provides home security services for customers, has announced its home security service will be discontinued on February 5th, 2020. Although this won't affect Internet, television, and telephone services, anyone using Spectrum security equipment and services must switch to another provider. Boyd & Associates is a trusted home security business that provides total home security solutions.
Switch Your Service Now
Boyd & Associates is urging people to set up an appointment before Spectrum's service ends on February 5th. The company is offering a free video doorbell to any customer that switches from Spectrum—this offer ends by 2/29/20.
How Our Service Compares
With Spectrum's security system, users can remotely view live video feeds from home security cameras, lock and unlock doors remotely, and much more. The company's system conveniently uses the customer's Internet access, cable connection, and wireless router. Spectrum has offered these services since its parent company, Charter Communications Inc., acquired Time Warner Cable and Bright House Networks in May 2016.
Boyd & Associates offers a complete home security solution that includes a 21st century burglar alarm system, fire and carbon monoxide alarms, and 24/7 alarm monitoring. Our UL Listed monitoring station will respond even if you're not home, and also if the power goes out. Each security device we use has a built-in cellular connection and backup battery, so your home is always protected.
Like Spectrum's security service, our advanced controls let you manage thermostats, locks, and lights. We offer a fully functional, full-color touchscreen, while you can access your security system from a mobile device as well. Advanced HD security cameras are also available. They automatically record live video when triggered, so you can watch 20-second video clips and receive alerts and notifications wherever you are.
How Do I Make the Switch?
Switching from Spectrum to Boyd & Associates is easy. Plus, Boyd & Associates has been serving homeowners since 1967, so you can rely on us to continue providing the protection and service you need. We offer many ways to connect your alarm system. If you're used to having your security systems linked to your Internet and cellular connection, we can provide the same convenient connectivity.
Act now and we'll provide all the home security equipment you need. You can also receive help with installation, repairs, and updates from our dedicated support team. Our customer care department is extremely attentive and can address all your questions and concerns.
Don't Wait to Set Up Your Security
If your security company is leaving you unprotected, switch to Boyd & Associates now. We'll even throw in a free video doorbell if you sign up by 2/29/20. But don't wait too long… Spectrum is ending its security service on February 5th!
Latest posts by Lane Staniland
(see all)
https://www.boydsecurity.com/wp-content/uploads/2019/05/mp-door-bell.jpg
350
735
Lane Staniland
https://www.boydsecurity.com/wp-content/uploads/2017/09/logo-web-boyd-security-1.png
Lane Staniland
2020-01-23 08:00:20
2020-01-23 19:51:48
FREE Video Doorbell When You Switch from Spectrum to Boyd and Associates Security!