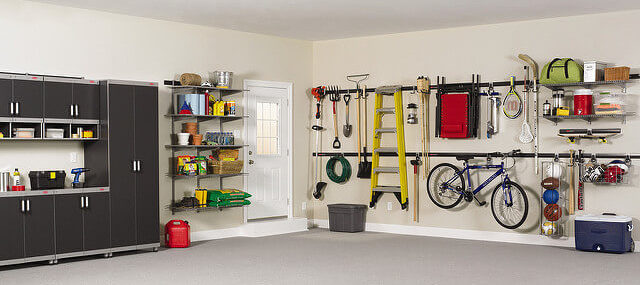 When going through a home security checklist, many neglect their garages. However, your garage can become a very unsafe place—quickly.
Want to know the best ways to keep your garage safe and secure? Consider the garage safety tips below to clean, organize, and monitor potential hazards within your garage.
Organize and Declutter
For our first garage safety tip, tidying up an already chaotic garage can seem like a large undertaking, but doing so could help prevent potential injury to you and your family.
To organize, first categorize the types of items you store in the garage (i.e. tools, gardening supplies, sports gear, etc.). Next, evaluate storage options for each set. Shelving, cabinets, cubbies, and peg-boards help keep items off the ground and eliminate tripping hazards.
Furthermore, if you have vastly unused items in your garage that you cannot part with, consider self-storage solutions.
Mitigate Fire Hazards
Garages are a leading place for fires to start. Each year there are approximately 6,600 garage fires in the United States. Oil and gasoline drips from cars and flammable liquids commonly found in garages are a formula for a dangerous situation. If you must store flammable material in the garage, do so only in small amounts.
To mitigate fire hazards in your garage, consider the following:
Store flammable materials away from electrical appliances.
Clean up any oil or gas spills in the garage immediately.
Ensure your garage has proper wiring. A spark from a short wire could be enough to start a fire.
Check that garage walls and ceilings are fire retardant. If not, consider renovating.
Don't overload circuits.
Install a heat detector.
Always have a fire extinguisher on standby.
Secure Power Tools and Dangerous Equipment
This garage safety tip is especially important if you have children or animals in the house. Accidentally knocking over or starting these tools can cause serious injuries to those who don't know how to operate them. If you're someone who has a lot of tools and likes to use the garage as a workspace, consider these tips:
Buy a locked cabinet to store all your dangerous tools and equipment.
Don't share the cabinet key or leave it out in the open.
Don't leave nails out in the open or near edges where they can fall onto the ground.
Always clean up your workspace whenever done for the day.
If you have children, teach them about being careful in the garage and why they shouldn't play with the tools.
Install Environmental Monitoring
When danger arises in your garage, you might not be able to detect it as quickly as if it were in the main home. This is why smoke, heat, and carbon monoxide detectors are vitally important in diminishing garage dangers.
Carbon monoxide monitors are non-negotiable in attached garages that house cars. Carbon monoxide is a deadly gas found in vehicle exhaust that can only be detected through a monitoring system. There are over 50,000 carbon monoxide related emergencies and 430 deaths each year in the United States.
Avoid Security Vulnerabilities
In addition to the hazards that can present themselves, a garage can also cause security vulnerabilities—especially when attached to the home. Garages can hold valuables that are prime for taking as well as present access to the main home. To prevent this from happening:
Always close and lock the garage. This keeps your items out of sight and out of mind for burglars.
Keep the door connecting the garage to your house locked.
Invest in remote access control for the times you leave the home and forget to close and lock the garage.
Monitor the status of your garage door via your smartphone. Some smart garages can even send you an alert if the door is open too long, or at certain times of the day. You can also close the door remotely from your phone when away from home.
Install surveillance cameras in and around the garage.
To keep your home and family protected, you want to treat your garage like any other entry point. For more garage safety tips or to learn more about installing a home security system,  contact us today!
Latest posts by Lane Staniland
(see all)
https://www.boydsecurity.com/wp-content/uploads/2022/02/child-friendly-garage.jpg
285
640
Lane Staniland
https://www.boydsecurity.com/wp-content/uploads/2017/09/logo-web-boyd-security-1.png
Lane Staniland
2022-02-18 16:16:38
2022-02-18 16:16:38
How Safe is Your Garage?