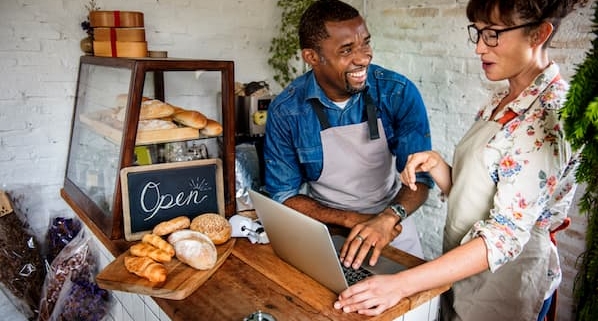 Restaurant Safety and Risk Prevention
If you own or operate a restaurant, you know there are many inherent risks to the trade. Restaurant safety should always be a primary concern for both patrons and employees. Cultivating a culture of safety and risk prevention can better protect your business in the long run.
Think through the five steps below in the customer's journey to identify safety gaps that could lead to major business losses.
Keep Entrances Safe
The entrance is the first impression for many visitors to your restaurant. Welcome your guests with a slip-free and safe entryway. To ensure all-around safety throughout the year, here are a few things to consider:
Ensure proper outside lighting so customers feel safe when arriving and leaving.
Highlight steps with yellow paint or plastic detailing to catch customers' attention.
Invest in absorbent walk-off mats to avoid slippery floors and catch outside water and dirt.
Consider installing video surveillance cameras in high traffic areas inside and outside to monitor and document slips and falls, as well as theft or intruder incidents.
Make Exit and Employee-Only Signs Clear
Having clearly marked signs are important for any restaurant, especially for patrons dining there for the first time. In the case of an emergency, patrons must know where to exit quickly to ensure the safety of themselves and others. There are also huge liability risks for not having clearly marked exit signs.
Likewise, you must clearly mark off employee-only areas. There are a lot of moving parts in a restaurant kitchen, and a lot of things that could lead to injury. Other employee-only areas could include a surveillance room, manager's office, break room, etc. It is essential that patrons know where they can and cannot be.
Food Safety
Food safety is arguably any restaurant's biggest safety risk. According to Foodsafety.gov, millions of Americans get sick from contaminated food each year. Just one large outbreak at your restaurant is a PR nightmare that could potentially destroy your business.
To mitigate the chances of foodborne illnesses, here are some key tips for monitoring food safety:
Constantly monitor the cleanliness of your establishment, especially your kitchen. This includes instituting a proper refrigeration program and food storage method, keeping consistent track of food expiration dates, and maintaining high sanitation standards in food preparation areas.
Keep your kitchen well stocked with clean towels, aprons, and anti-bacterial wash. Hold employees accountable for handwashing and proper hygiene.
Train staff in proper food preparation safety and health department compliance.
Monitor your staff remotely with cloud-based video solutions. These cameras can be installed in prep and food areas to ensure employees are following proper guidelines and training.
When preparing food, commercial kitchen fires are also a large risk. According to the United States Fire Administration, there are on average over 5,900 restaurant building fires reported each, causing an average of 75 injuries and $172 million in property loss. Prevent fires with the tips below:
Proactively train your team on equipment that uses heat or flames.
Establish an evacuation and crisis control plan in case of a fire.
Have the fire department or a security provider inspect your building to ensure all fire hazards are addressed.
Install a fire suspension system, such as sprinklers.
Keep fire extinguishers in place.
Install a fire alarm to ensure emergency response teams can reach your property as quickly as possible.
Hire Employees You Can Trust
A solid team is your business's best asset. Everything from the head chef to the host, to the busser, is a vital part of your business. Being successful means hiring the best you can get. But what does it take to ensure you hire top-quality, trusted employees? Consider the following:
Seek out experienced restaurateurs—few know how challenging the foodservice industry can be.
Start your employee selection process with a thorough background check and conduct live interviews.
Require recommendations and follow-up with former employers.
Request all candidates complete a drug test.
Consider a trial-run period, in which you can discern the candidate's ability to work successfully with existing staff.
Secure Your Finances
You want your customers to become loyal guests. The last step to protecting your eatery, in the long run, is financial viability.
Employee theft is more common than you might think. Studies indicate that employees steal over $50 million annually from businesses in the United States and an astounding 75% of employees have admitted to stealing from their company at least once. Consider the following for optimal protection:
Use access control to know when your kitchen staff arrives in the morning and when your bartender locks up at night. Assign employees unique codes or keys to keep tabs on individuals. For example, if five steak filets go missing from your outdoor refrigerator, you can reference a log to know who accessed the unit.
Install a video surveillance system. Being a restaurant owner is a round-the-clock job, including many holidays and almost all weekends. Your video monitoring system is on the floor when you can't be, check-in at any time from your smartphone.
When it comes to restaurant safety, partner with the security experts you can trust. If you would like to learn more contact a Boyd & Associates expert today.
Latest posts by Lane Staniland
(see all)
https://www.boydsecurity.com/wp-content/uploads/2020/09/small-business-2.jpg
399
598
Lane Staniland
https://www.boydsecurity.com/wp-content/uploads/2017/09/logo-web-boyd-security-1.png
Lane Staniland
2022-05-19 18:45:01
2022-05-19 18:45:01
Restaurant Safety and Risk Prevention