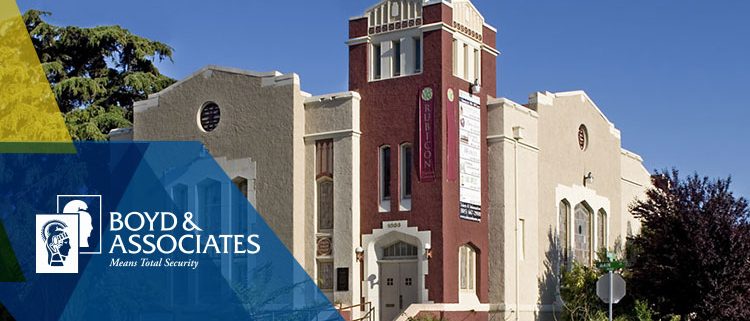 Boyd & Associates Ensures Safety and Security of Rubicon Theatre Company
Local Security Company Donates Safety Solution to Neighborhood Theatre
January 8, 2017 (Ventura, CA) — Boyd & Associates (a.k.a. "Draganchuk" or "Boyd"), a Ventura-based security services company, recently donated an extensive alarm system and other security solutions to the Rubicon Theatre Company. Headquartered in Ventura, Boyd is a full service residential and commercial security protection firm serving Southern California. 
Recently, Rubicon had increased issues with vagrants and vandalism in the Midtown area, where the theatre is located. Rubicon Board President Diane Goldenring turned to Dan Boyd, President of Boyd & Associates who immediately presented the needed electronic solutions.
"Our neighbors at Rubicon Theatre Company were experiencing some security challenges and we knew we had a solution that could help solve the problem," said Boyd. "Our company policy is to give back to the community we serve, particularly as we approach the New Year," Boyd added.
The donated burglar alarm system includes a control panel, keypads, a motion sensor, micro-contacts for doors/windows and a siren. It will help prevent unwanted entries to the main entrance of the theatre and in the administrative area and downstairs conservatory.
A Rich Heritage
A former church built in 1926, Rubicon Theatre's facility features winding staircases, original stained leaded-glass windows, an expanded balcony and an iconic steeple. At 10,000 square feet, the building houses 12 offices and classrooms, a 185-seat theatre and a rehearsal hall/reception area.
"We are grateful to Boyd & Associates for helping our theatre," said Karyl Lynn Burns, Co-Founder and Producing Artistic Director.  She added, "The protection of our employees, staff, patrons and students is our highest priority. We feel a sense of relief and know that Boyd's generosity will bolster confidence and create a great experience for our customers."
Boyd & Associates' mission is to help support communities and law enforcement by providing effective security solutions with rapid communication to authorities in case of intrusion, fire or medical emergency.
About Boyd & Associates
A 50-year-old, family-owned corporation, Boyd & Associates has a proven reputation for providing quality security services to communities, residences, and businesses throughout Southern California. Beginning with its first office located in metropolitan Los Angeles, the firm offers services in Ventura, Los Angeles, Santa Barbara and Orange Counties. Boyd & Associates monitors thousands of home, business, and fire systems from its own 24-hour Central Monitoring Station in Southern California.
About The Rubicon Theater Company
Rubicon Theatre Company is now in its 20th Season of service to the community. The non-profit organization has presented more than 130 innovative dramas, comedies and musicals, including world premieres, for the entertainment enrichment and education of the community, reaching more than 450,000 patrons since its inception.
Latest posts by Daniel Boyd
(see all)
https://www.boydsecurity.com/wp-content/uploads/2017/12/rubicon-theather.jpg
350
750
Daniel Boyd
https://www.boydsecurity.com/wp-content/uploads/2017/09/logo-web-boyd-security-1.png
Daniel Boyd
2017-12-22 16:48:43
2017-12-22 16:48:43
Boyd & Associates Ensures Safety and Security of Rubicon Theatre Company