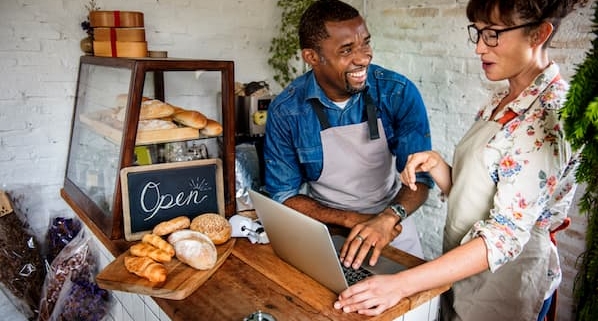 Most small businesses work with a tight budget and profit margin. This makes it even more important for small businesses to protect their company. Here is a quick checklist to make sure your small business is protected and to help prevent unnecessary losses.
PHYSICAL SECURITY
It is not always obvious what you can do to improve building security. That is why a building security checklist should be part of every small business, to make sure your store is protected from all angles.
Here are a few things you should consider as part of your security checklist. Depending on your store's location and layout, you should add more to this list:
EXTERIOR DOORS AND WINDOWS
Exterior doors are locked and are made of solid hardwood or metal.
All entry points have a sturdy deadbolt lock and the keys to the lock are with a trusted manager or employee, not stored under a doormat or in a mailbox.
Consider using keyless entry. Not only is it a secure way to keep your business safe it also helps you identify who is opening or closing the store.
If there is any glass close to or near your doors, it is reinforced so it cannot be shattered.
Every window that can be opened has a lock or is securely pinned.
OUTDOOR SECURITY
Shrubs or bushes near your business are trimmed so there is no place for someone to hide.
Back or side entrances are well lit with bright working lights. Floodlights are used appropriately to ensure effective illumination around your building.
Outdoor lights are enabled using a timer or a motion sensor, no matter if the business is open or not.
The building or office number is clearly displayed and viewable from the street so first responders can easily locate your company if anything does happen.
INTERIOR SECURITY
Exit signs are properly lit.
Fire extinguishers are inspected and charged.
Emergency exits are accessible and not blocked.
SECURITY MONITORING
Surveillance cameras are operating properly and there are no dead zones (areas that are not being recorded) in your store.
Footage is recorded and stored properly offsite and archived at least once a month.
CYBER SECURITY
Your physical security checklist keeps your office or storefront safe, but if you are like most companies, the most valuable things you have are stored on your computers and shared networks. Customer's personal information, billing details, and private information are just as important to protect as your physical store, and they deserve their own cyber security checklist:
MULTI-LEVEL SECURITY
A firewall is installed on your network.
Antivirus software is set up on all devices connected to the network and a password is required for access.
NETWORK OPERATIONS
All firewalls, virus protection, or other forms of computer security software are updated at least once a week.
Operating system updates are installed as soon as they are available.
Key programs and applications, like web browsers or content management systems, are updated weekly.
A record including users and their network permissions is updated at least once a month.
Use separate guest and corporate networks.
MOBILE DEVICES
Identify all devices that touch your network, and who the owners of those devices are.
Clarify security elements with devices that have access to your network.
PASSWORDS
Change passwords at least once a month and never reuse them.
Require passwords to be strong with a mix of letters, numbers, and symbols, rather than weak passwords that are easily guessable or short.
Implement multi-factor authentication to allow extra account protection.
Require password changes when data breaches occur.
Require different passwords for every account and program, even if used by the same employee.
BOYD & ASSOCIATES HELPS SMALL BUSINESSES
Small business security does not need to be complicated. At Boyd & Associates, we offer automation options to make securing your business a breeze. We even offer services such as video verification with live operators standing by to notify police the moment any suspicious activity occurs and, smart business automation that sends notifications right to your phone.
Tackling small business security by yourself should not have to feel overwhelming. Secure your business with Boyd & Associates and find out how we can help your business be safe from both physical and cyber threats.
Latest posts by Lane Staniland
(see all)
https://www.boydsecurity.com/wp-content/uploads/2020/09/small-business-2.jpg
399
598
Lane Staniland
https://www.boydsecurity.com/wp-content/uploads/2017/09/logo-web-boyd-security-1.png
Lane Staniland
2020-09-10 08:00:15
2020-09-09 19:52:42
Small Business Security Checklist